As reported by the Sioux Falls Business Journal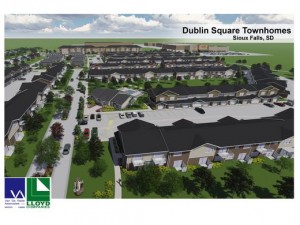 , Dublin Square Townhomes has broken ground at the Dawley Farm Village.
Just north of Rosa Parks Elementary School, Dublin Square features 145 townhome-style apartments with a central clubhouse.
When complete, the entire development is designed to resemble a small village and is planned to feature up to 370 total rental units, retail space and small office.
Dublin Square Townhomes are owned by the Dakotas Real Estate Income Fund III, administered by Ernst Capital Group.