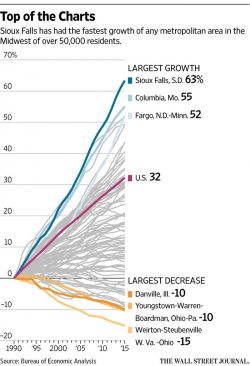 We're proud to call Sioux Falls home, as the city is home for our company as well as many of our investment holdings.
The Wall Street Journal also took note of Sioux Falls' growth, with a story today that features our city's trajectory as the fastest growing metro area in the Midwest of over 50,000 residents.
Writer Shibani Mahtani goes back into our history of economic development, noting the trajectory changes in financial services starting in the 1980s and the health-care explosion that has occurred over the past 20 years with advances by Sanford and Avera Health.  The employment and services that have followed these employers has fostered Sioux Falls 63% population growth since 1990, as noted in the Bureau of Economic Analysis data the WSJ cites.
We're pretty excited about Sioux Falls and its' future, we're happy that the Wall Street Journal is also taking notice.