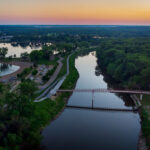 An environmentally impacted downtown property owned by a railroad promises to be a complex redevelopment. But Iowa-based Hubbell Realty Co. had a vision for the 75-acre property in downtown Des Moines, persevered, partnered, and today is beginning to see the results of it. Gray's Station, which sits along prominent Martin Luther King Jr. Parkway, serves as a connection between downtown Des Moines and the nearby 1,000-acre Gray's Lake.
"It was an abandoned rail yard and a piece that many developers had looked at and passed because of environmental concerns," said Kris Saddoris, vice president of development for Hubbell Development Services, who estimates the company began working on the property more than five years ago. "We had a good team in place and believed we were not dealing with huge, significant environmental issues but rather something that would take a lot of work. But we had done a site similar downtown, and we knew we could get it done, and we wanted to do something different than we had in the past." Today, the first phase of Gray's Station includes multiple apartments, single-family homes, retail and plans for more residential development. It's also helped spark adjacent redevelopment, including a mixed-use project centered around a new soccer stadium. "We're a long-term player in this market. We're a 165-year-old organization and deeply entrenched in this," Saddoris said. "Like many communities, we need population growth, and how you do that is creating things that bring people together. Especially post-COVID, where people can literally live anywhere, you have to create an environment that is unique." The vision for Gray's Station and the track record of Hubbell Development made it an appealing investment for Sioux Falls-based Ernst Capital Group, which has raised capital for multiple projects within it. "We knew the capability of Hubbell combined with the strength of the Des Moines market would make this an opportune partnership," partner Chris Daugaard said. "It's been exciting to watch Gray's Station capitalize on that opportunity and deliver truly a unique product to the market." Gray's Station, which is primarily residential, offers an intentional design focused on making it incredibly easy to walk or ride a bike. All homes face into a green area. And Hubbell even built a bridge to make it as accessible as possible for residents to get to Gray's Lake. "We wanted to take that 75 acres with this beautiful natural resource and create a neighborhood we haven't seen before," Saddoris said. "We have a multitude of pocket parks, unique lighting and great places to sit and listen to live music. And we wanted to make sure the neighborhood could get to the beach and swimming."
The first phase of the development centered around the prominent corner of SW 11th Street and MLK Jr. Parkway, and became Linc at Gray's Station, a 14,000-square-foot, five-story building with a pizza shop and brewery on the first floor and 85 apartments above. "That's how we introduced the neighborhood, with very unique architecture and retail on the first floor," Saddoris said.
A second adjacent building, LINC II, brought another five-story project, this one with 142 apartments. Ernst invested more than more than $11.7 million combined in the projects in 2019 and residents began moving in during 2020 and through 2021. "They've been a great partner," Saddoris said. "They understand our story. We focus on creating something super unique each time, and they've been supportive of that. Anyone can build an apartment, but do you understand what creates value for the tenant? Why live with us as opposed to someone else? And Ernst understands it's all these unique touches. They're very good to work with. We spent a lot of time together early on, so they understand where we're coming from."
Additionally, 45 town homes opened in 2021, which also included a $2.68 million investment from Ernst. "The townhomes were leased before we completed them," Saddoris said. "People want to live in the neighborhood, they want the lifestyle, but they don't necessarily want to buy." Residents at LINC enjoy a pool, two large fitness centers, including a two-story facility, a game room and several distinctive amenities. "We have a big work-from-home area, which has been a big driver, four different outdoor large decks and a test kitchen, which is an extremely popular feature," Saddoris said. "Residents like to have chefs in and host cooking classes." The intentional approach is reflected in the project's success." Leasing was extremely successful here," Daugaard said. "They whole project leased up very quickly. It's obvious the care Hubbell took in designing and executing this project was recognized by the community."
With multifamily success creating momentum at Gray's Station, Hubbell then introduced 75 single-family homes, ranging from $400,000 to just under $1 million. The second phase will bring 79 homes along with 85 condos starting this fall. "We wanted as many housing options as possible," Saddoris said. "People love the location. Their rooftop patios offer great downtown views, we have a minor league ballpark that shoots off fireworks nearby and one of the best farmers markets in the country." At the same time, adjacent to the west end of the Gray's Station development, the Des Moines community is leveraging a public-private partnership to build a 6,300-seat soccer stadium for a USL Championship league team, part of a broader 60-acre, mixed-use stadium district. It's scheduled to open in 2025. "It's primarily soccer, but there's a big plaza, and the goal is to use it for multiple events, including downtown events that currently require shutting down streets," Saddoris said. "Part of what we love is that it brings vibrancy to the area. Soccer is the biggest sport in the world, and it is going to further enhance the neighborhood and attract additional retail and restaurants, and fill in the whole corridor for us." The broader development is a good example for other communities of how to blend residential, commercial and public facilities in an urban area, Daugaard said. "This checks all the boxes," he said. "It optimizes underutilized land, takes advantage of natural resources, creates a destination for visitors and provides a huge range of housing opportunities to attract and keep people in the community." Hubbell still has land to develop at Gray's Station, even after phase two. It has some flexibility but likely will include more variety of residential options. "We're super proud of this so far, we've had very good results and are thrilled Ernst has been a partner through it all," Saddoris said. "They want to be part of something that's successful long term, and that's what we want to create."