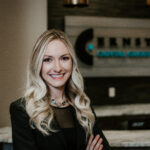 This week's Up-and-Comer is Emily Claar, a senior associate at Ernst Capital Group.
Name: Emily Claar
Age: 33
Hometown: Mitchell
What brought you to Sioux Falls? After graduating from the University of South Dakota, I decided that remaining central to my family and friends was important to me. From there, it was an easy choice to move to Sioux Falls for its growing economy.
What keeps you in Sioux Falls? Sioux Falls has all the amenities of a big city but with a strong sense of community. We have a great group of friends, and it has been a wonderful place to raise our family. My husband, Paul, and our 4- and 7-year-olds love the small-town atmosphere. Many of our evenings are spent on family walks through our neighborhood.
What's your favorite thing about your job? The highlight of my job — and the industry — is to watch ideas come to life. It's interesting to drive through town and know our company has a part in making these projects happen. We also have the best team. Having a small but mighty team of eight, we've learned to really dial in on each other's strengths and optimize our production. Don't worry though, we still remember to have fun!
How did you get connected to your industry? In 2013, a friend let me know there was an opening at his company and thought I was the right person for the position. I was surprised to learn the depth of what goes into what we do. Ernst Capital has given me the opportunity to hone my skills and learn more about raising capital, the development process and asset management.
Describe Ernst Capital in three words. Consistent. Reliable. Dedicated.
What is something someone might be surprised to learn about you? Up until a few years ago, I really didn't care for wine. I love it now! I love to try the different wineries in our area. Calico Skies is one of our favorites to visit, especially on Sundays with their live music and wood-fire pizzas. Many evenings, we enjoy ending the day on our deck with a glass of wine and the beautiful South Dakota sunset.
What's your favorite way to give back to your community? I love supporting local businesses. Since our office is located downtown, we especially love dining, shopping and visiting the local breweries. Downtown Sioux Falls has such a fun atmosphere; there is always something to do.
What's one business you'd like to see in Sioux Falls that isn't here now? My husband will never let me live it down, it's his favorite, and I was a nonbeliever, but I have to admit a Raising Cane's would be superb. I would also appreciate an outlet mall; I'm pretty frugal and love hunting for a great deal!
Where do you see yourself in five years? In five years, I hope to see myself still developing and growing with Ernst Capital Group.