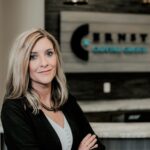 Whether it's working with investors or evaluating real estate opportunities, each element of her role is a good fit for Karla Jackson. A vice president at Ernst Capital Group, Jackson helps identify new real estate investment opportunities and works with investors to raise capital for these investments.
"I find my role with Ernst Capital Group to be both rewarding and exciting," said Jackson, who joined the Ernst team 10 years ago. "I enjoy working with investors and have gotten to know many of them well over the years. And the real estate side of what we do is very exciting. There's never a transaction that replicates the one before." A north-central South Dakota native, Jackson grew up around real estate and finance. Her father was vice president of a community bank and owned a real estate firm that focused mostly on agriculture and residential transactions. Her first job out of college was in a banking call center environment. Her career evolved into business development, which ultimately connected her with Ernst. Jackson is a licensed securities representative, investment adviser and real estate broker, allowing her to provide a broad range of support to Ernst and its investors.
"I'm able to help with everything from raising capital, assessing new real estate investments, determining the opportune time to sell assets and communicating that value to investors," she said. While many of Ernst's recent investments have involved new-construction development projects, the firm also looks to purchase existing real estate. One example, WaterFall Plaza, led Ernst to acquire the existing retail and office center in south Sioux Falls. "We took a look at the asset and determined that it was a good fit for our fund," Jackson said. "We have worked very hard over the years to establish a good reputation within the Sioux Falls market. We have selling groups approach us for nonlisted assets to see if we have any interest in buying. It feels good to know that groups feel confident in our process to reach out to see if we can strike a deal that works for both sides of the transaction."
While there's strong demand from accredited investors to work with Ernst, Jackson and colleague Chris Daugaard continually meet with interested investors. The process consists of meeting with new investors, reviewing the open offering and determining if it is a good fit. "Our investors like the local aspect of what our firm has to offer as they can drive by the developments and watch the construction progress until it is completed. We're also able to offer larger commercial investment opportunities to people who might not have the opportunity to invest in properties like this had we not put together a fund."
She's also found a fit with the close-knit, locally focused team at Ernst. "It's a small team, just eight of us, which makes it a great place to work. I enjoy being part of it and being surrounded by sincere, hardworking people. We support each other, and everyone is ready to jump in if help is ever needed," she said.